Last summer a group of friends from church planned a backpacking trip. After discussing it over with my wife, we decided that, although we wanted to go, we did not have enough vacation days to take off for the trip. After seeing our friends' pictures and hearing their stories, I realized that we should have gone. It looked like they had an amazing time.
So, I determined that we would go on the trip that was being planned for this current summer. All through out the year, my wife and I began accumulating gear: packs, a tent, sleeping bags, hiking boots, and all the other miscellaneous gear needed to spend an extended period of time in the wilderness. As the year progressed, the plans for the trip started to finalize. Our group decided that we were going to hike in Porcupine Mountains Wilderness State Park, located in the far western reaches of Michigan's Upper Peninsula. As the date for the trip crept closer, I got more and more excited.
And then, the trip came and went in a flash. I have to say that it was one of the most amazing trips I have ever done in my life. At times it was painful and tiring, but it was well worth it. We saw some amazing views and had fun laughing with friends. But now the trip is over, and I'm left looking at photos remembering all the good times. So I decided that I'm going to re-live those awesome few days by recapping each day on my blog over the next few posts.
Tuesday and Wednesday - August 9 and 10, 2011
We didn't actually leave until Thursday, but Tuesday and Wednesday were quite crazy and require some mentioning. On Tuesday night, Jamie and I were starting to lay out most of our gear and making some of the meals that we were assigned for our trip. We had two breakfasts that we had to provide for our group, so for one of them we were making breakfast burritos (Thanks to Paul and Dawn for the idea). We got them all made and wrapped in tin foil. But when Jamie put them in the freezer she noticed that the freezer didn't feel too cold. We decided to wait over night to see if it was just on its defrosting cycle. The next morning we checked, and the burritos still weren't frozen. As well, some ice cube trays no longer held ice, but rather a slushy mix. Crap, our refrigerator was broken. As many pointed out, it was better that it broke before we left instead of coming home to a bunch of spoiled food. But still, we had to scramble to find a repair man that could come that same day. I found one and made an appointment with a window of 2-4. So, I got to leave work early that day. This gave me time to do some last minute things around the house before we left, especially as the repair man showed up at 3:55. But, he immediately knew what was wrong and had the part in his truck. The fan motor in the freezer broke. Actually, he had repaired the same thing on our neighbor's refrigerator. About 30 minutes and $200 later, we had a working refrigerator. The rest of that night was mostly spent packing our gear for the upcoming trip. I also had to go to my parents house to pick up my brother Jon, who had driven all the way from Virginia to come on the trip. After getting everything packed, we watched some Man vs. Wild with Bear Grylls to get us in the mood. We each took one last shower and then went to bed. It took me a while to fall asleep because I was so excited.
Thursday - August 11, 2011
We woke up a little after 5 in the morning. While we were eating breakfast, Justin and Nicole, another couple who went on the trip, showed up. We were all going to ride together and meet the other two couples up North. We got everything loaded up in the Pathfinder and were off by around 6 am.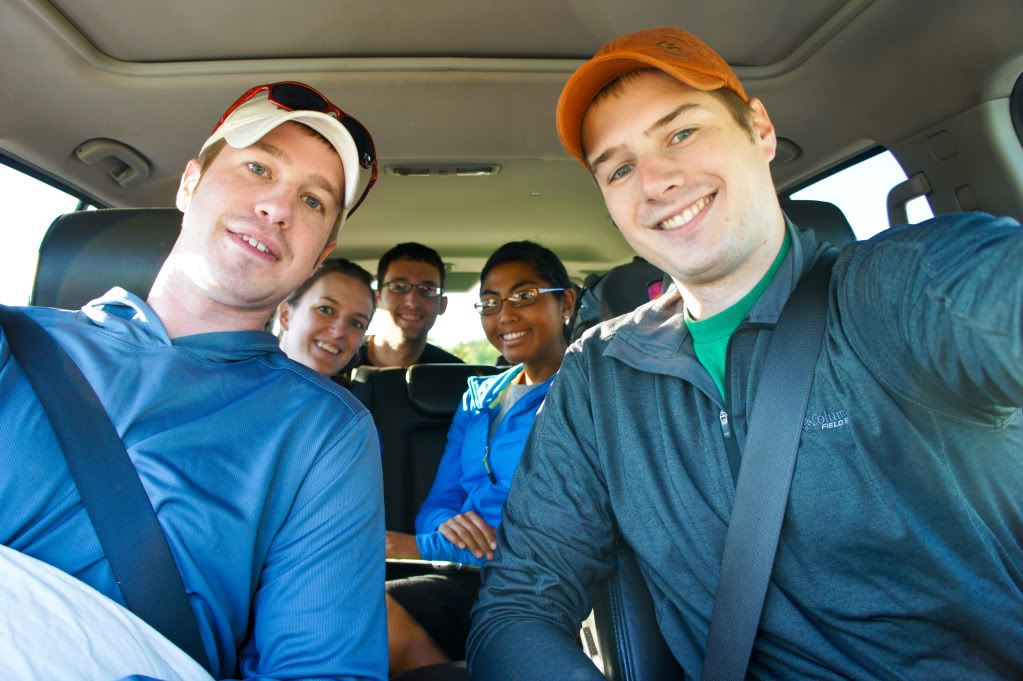 What can I say, driving the Western Upper Peninsula takes a very long time. But we made pretty good time. In Kalkaska, we had to stop at McDonalds and get some breakfast sandwhiches for a snack ( Holy Crap... over $8 for just 3 egg McMuffins??). We decided to break up the drive by stopping at the Mackinac Bridge and taking some pictures. I definitely needed to get up and walk around after driving almost 5 hours.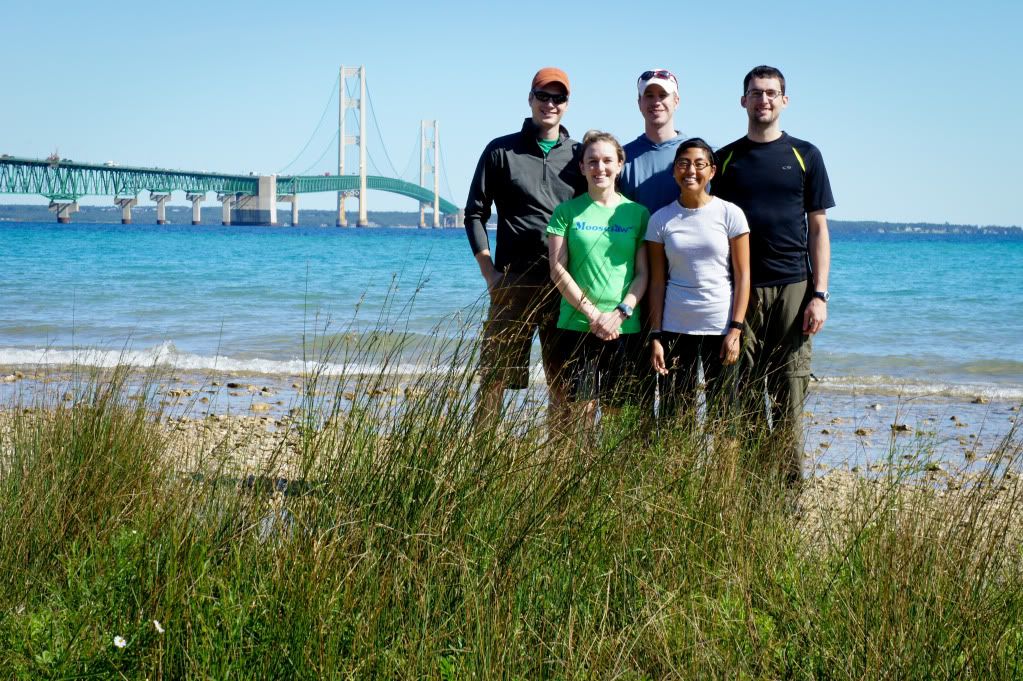 After the short break, we were back on the road and had to drive across the bridge. I have to admit, despite all the times I've been to the U.P. snowmobiling with my Dad, this was the first time that I actually drove myself across the bridge. While going across, I had Jamie take some photos of the bridge through the sunroof.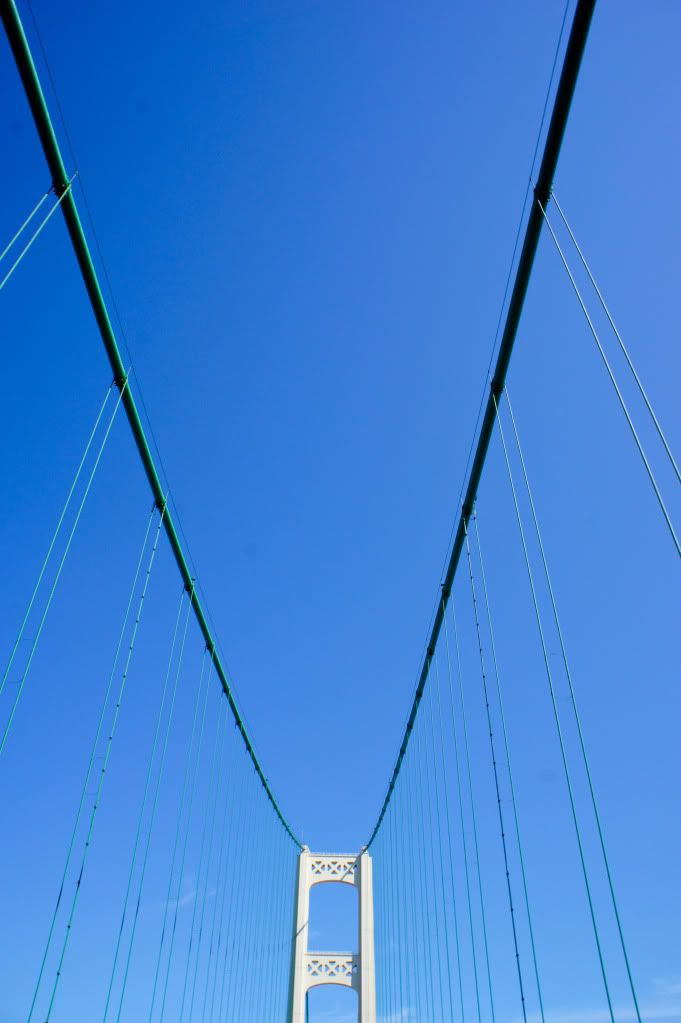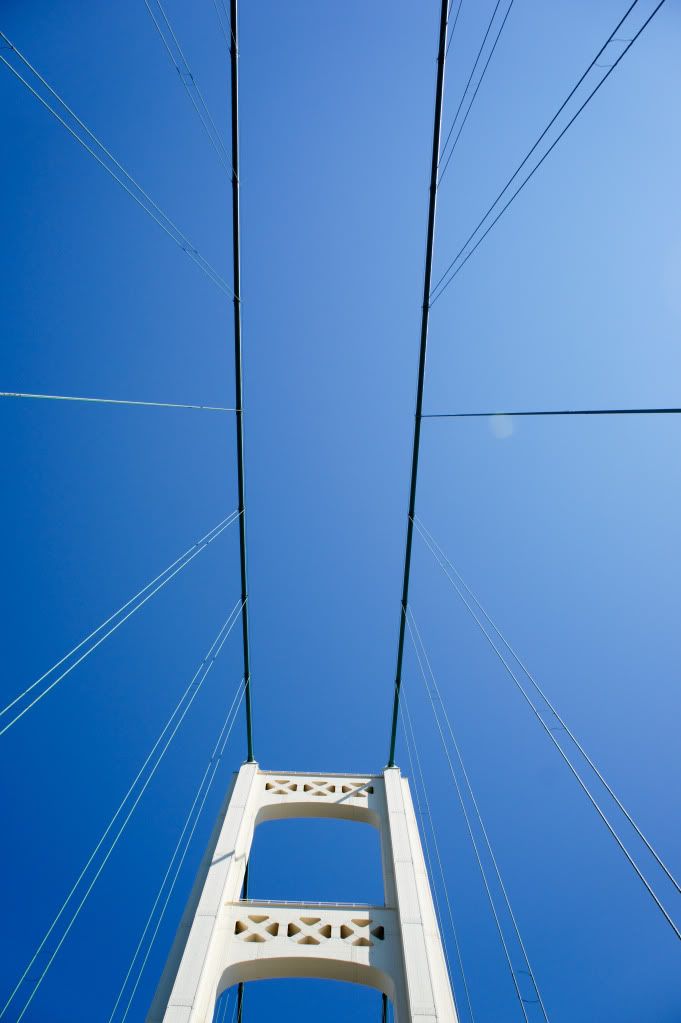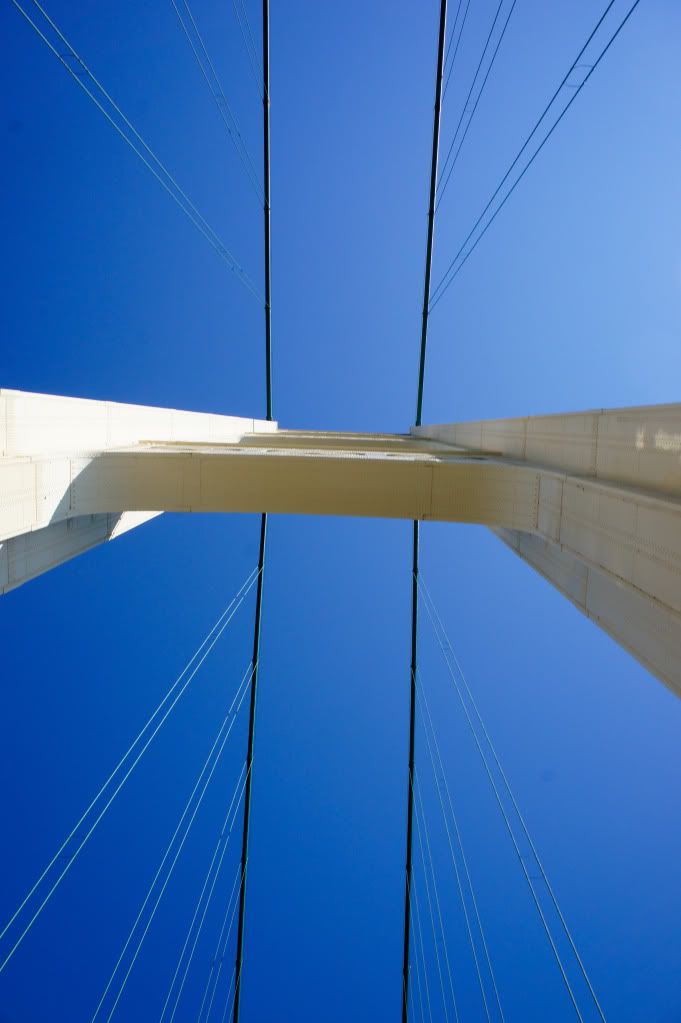 We spent another hour or two on the road before some of us got hungry. So, my brother and I suggested stopping in Newberry and eating lunch at Timber Charlies, a place I've eaten at many times on snowmobile trips. I'm not sure what everybody else thought about the place, it's a little rustic. But I enjoyed the food and am thankful that everybody else agreed to indulge Jon and I.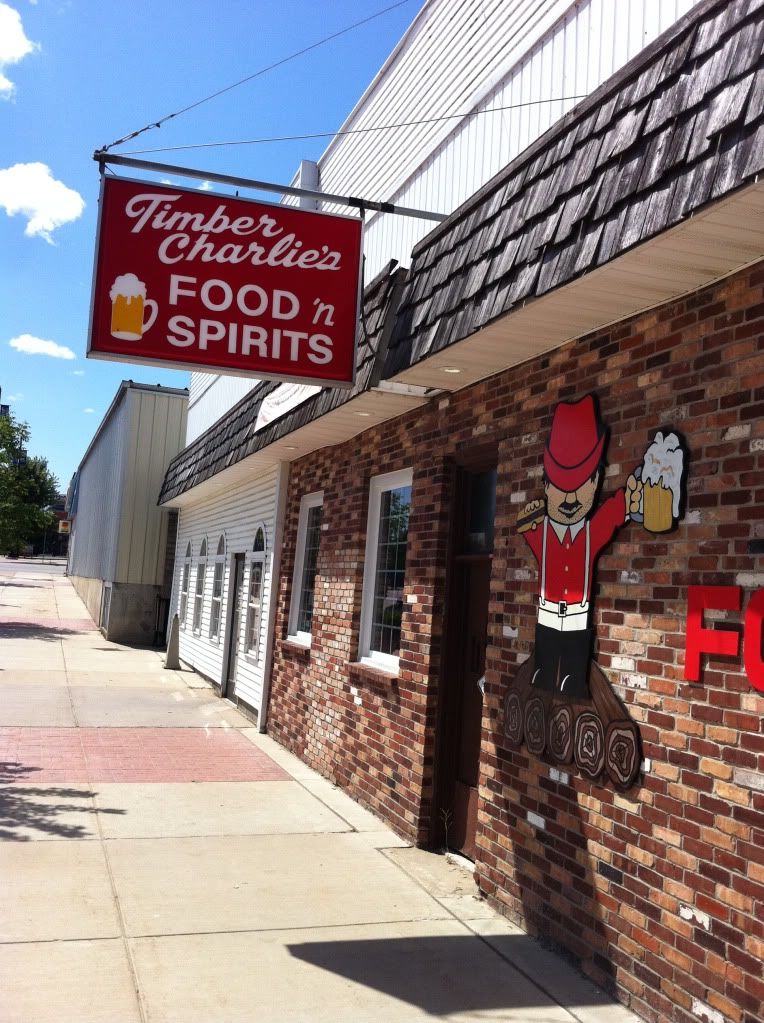 After lunch, we had the very long drive across the U.P.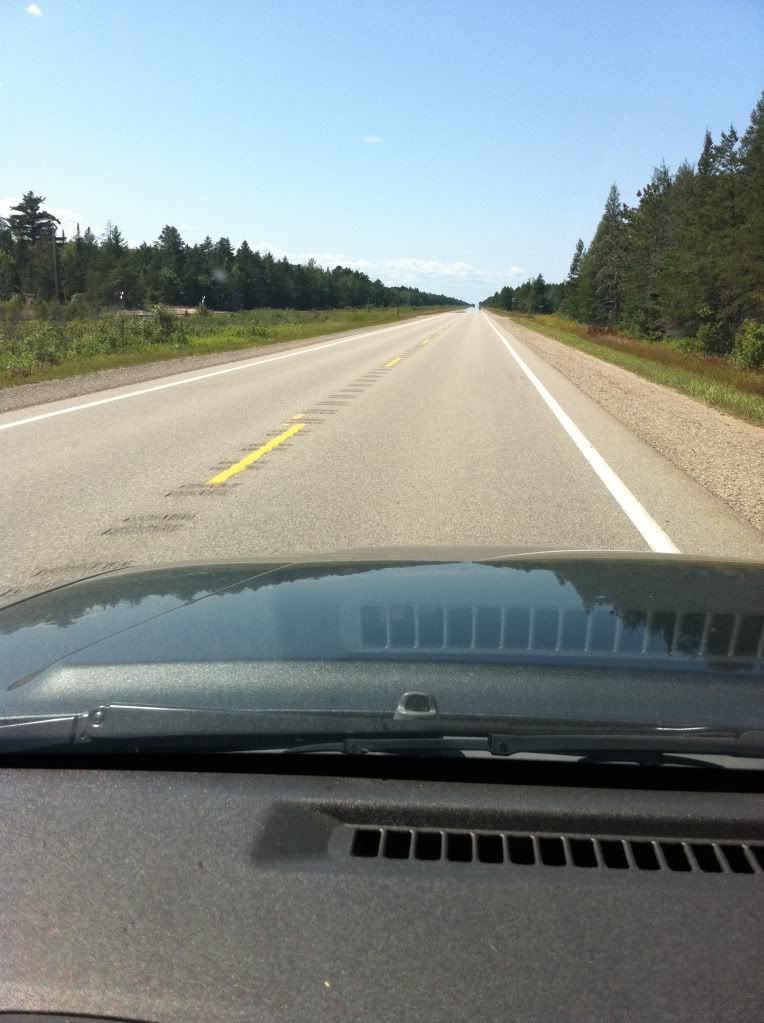 I think we managed going the rest of the way with only making one more restroom stop. At about 6 pm, we arrived at the Union Bay Campground in the Porcupine Mountains Wilderness State Park, just west of Silver City and Ontonagon, MI. There we found the rest of our group: Darren, Susanne, Mike, and Kelly. We checked in and set up camp. After getting all set up, we decided to go out and get some dinner. Now for those that have never been up in that area, your dining options are very limited. We chose to eat at The Porkies Pub and Grub located in the AmericInn Hotel in Silver City, mostly because we thought the only other restaurant in town was closed. Let's just say that the service there wasn't very speedy. It probably took about 2 and a half hours for the whole ordeal. I especially enjoyed the part where they waited 45 minutes after I ordered to inform me that they didn't have what I wanted. But eventually, we all got more or less what we ordered. And I do have to admit that my replacement burger was very tasty. After all of that, we went back to the campsite and decided to watch the sunset on the shoreline of Lake Superior. One word.... Spectacular !!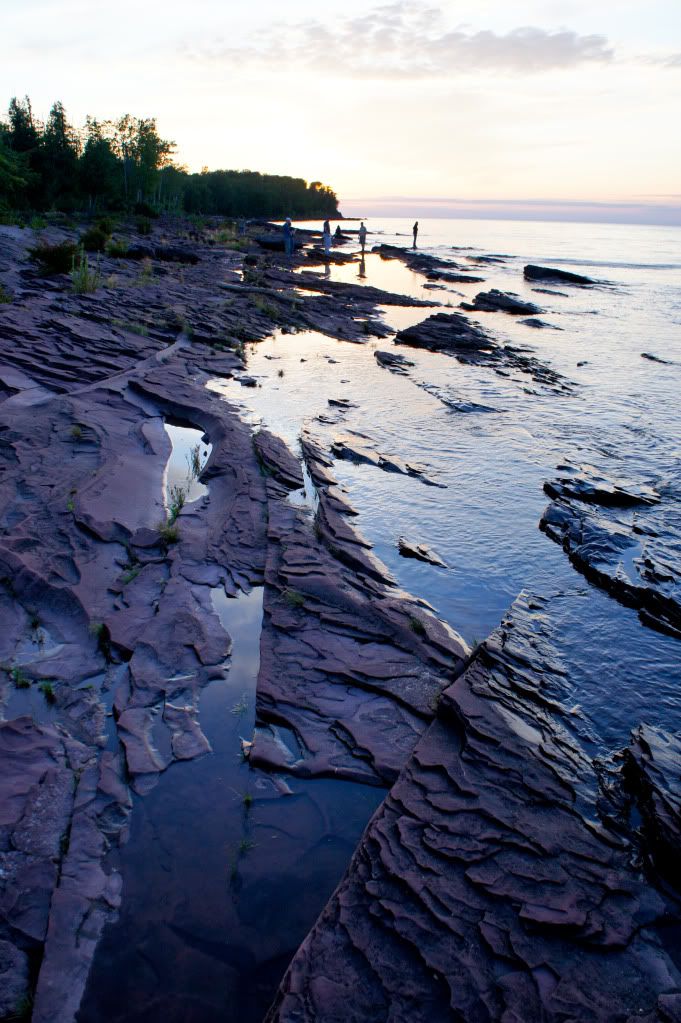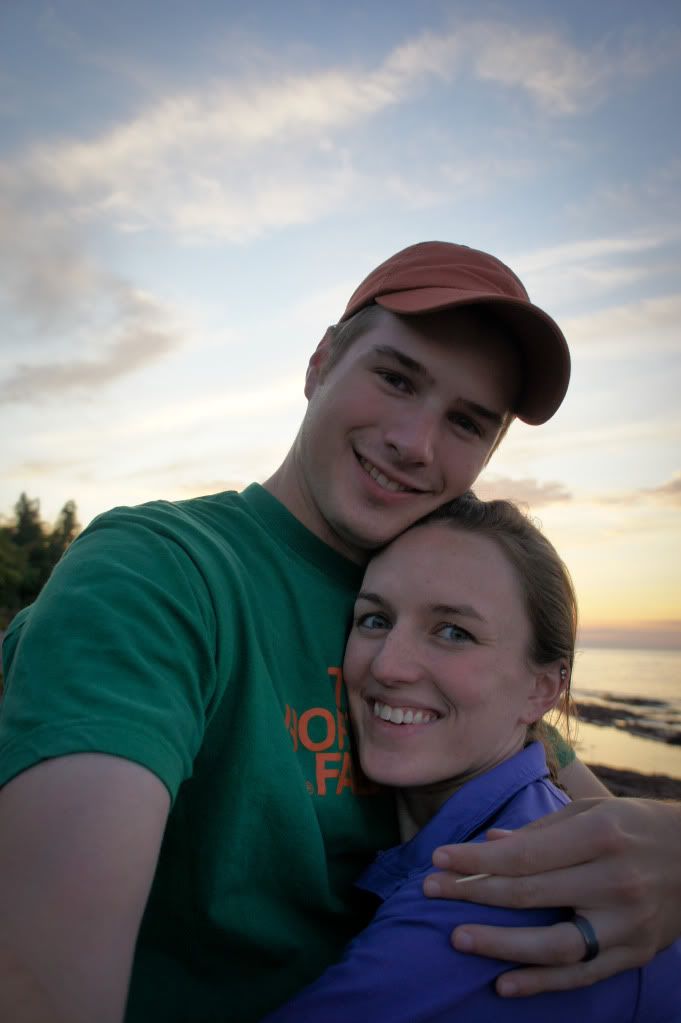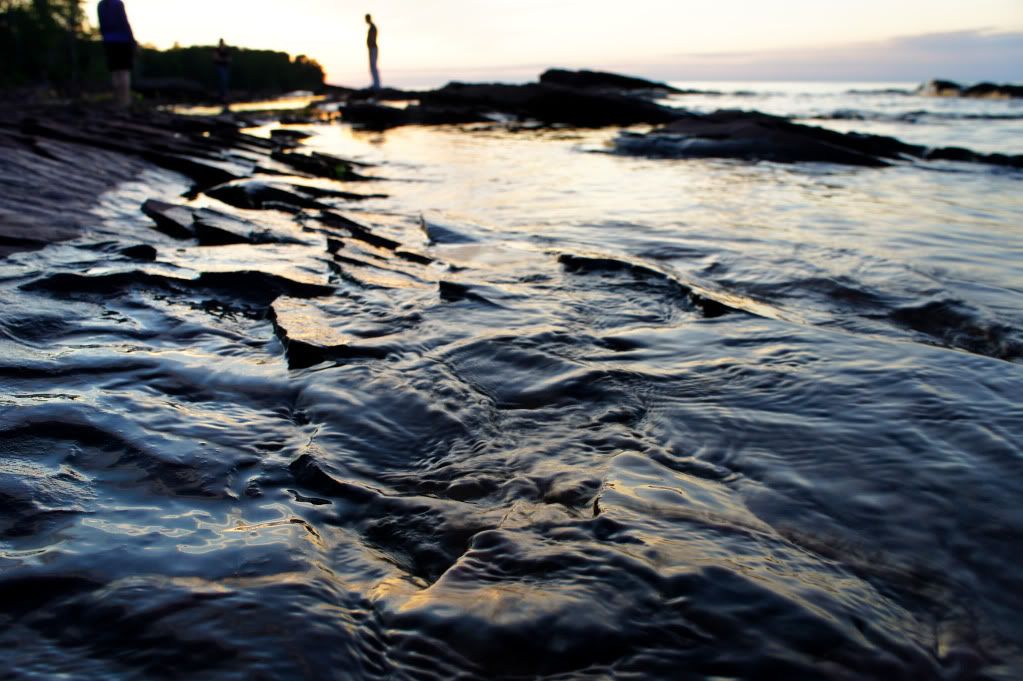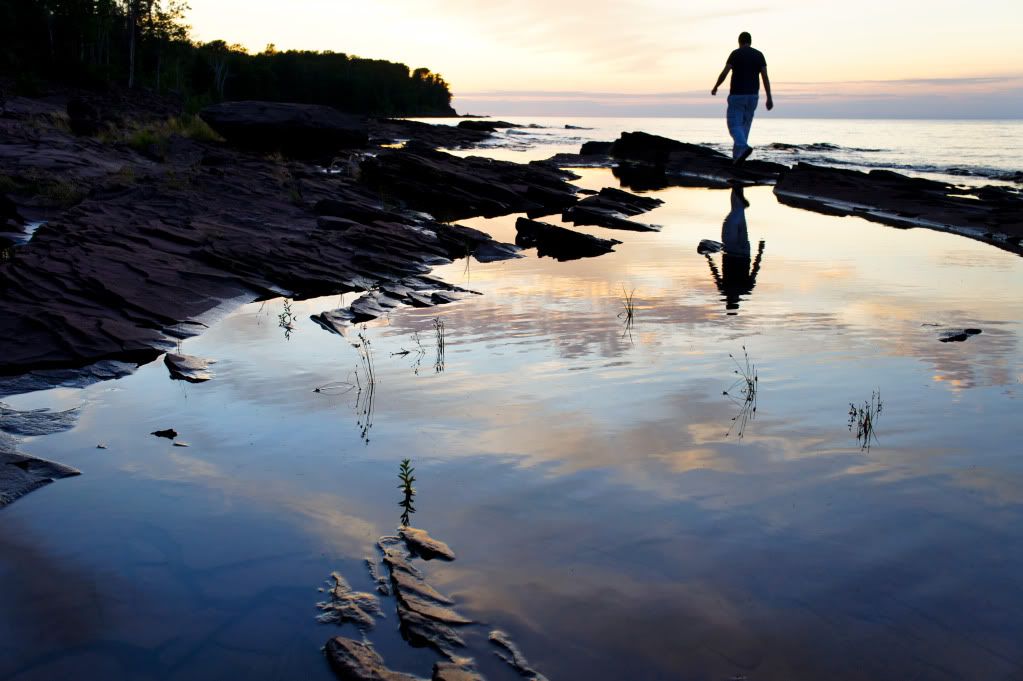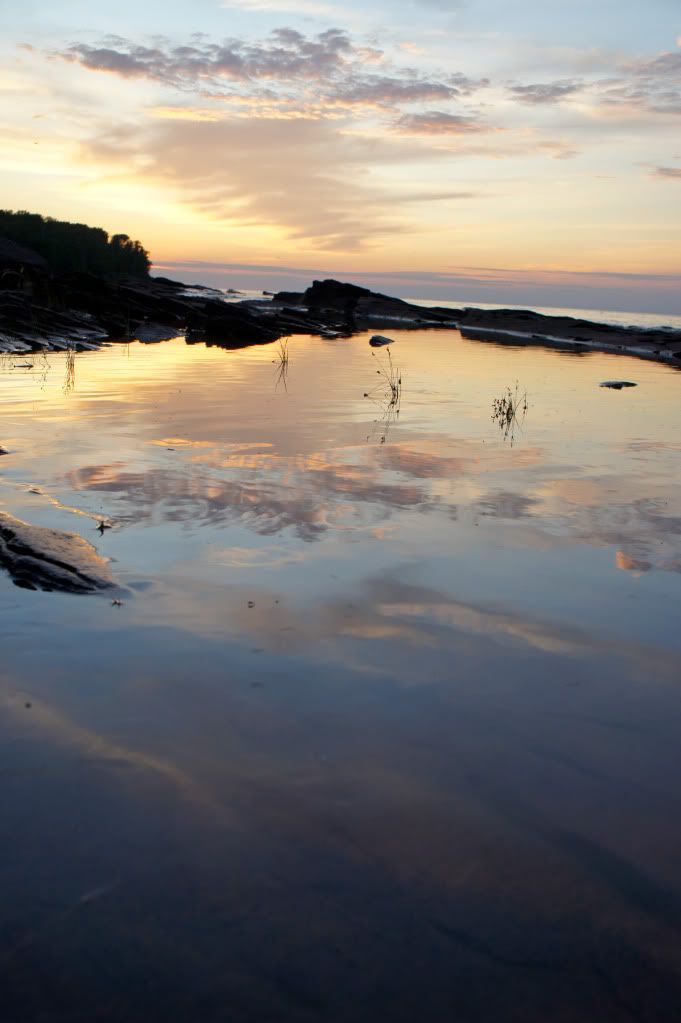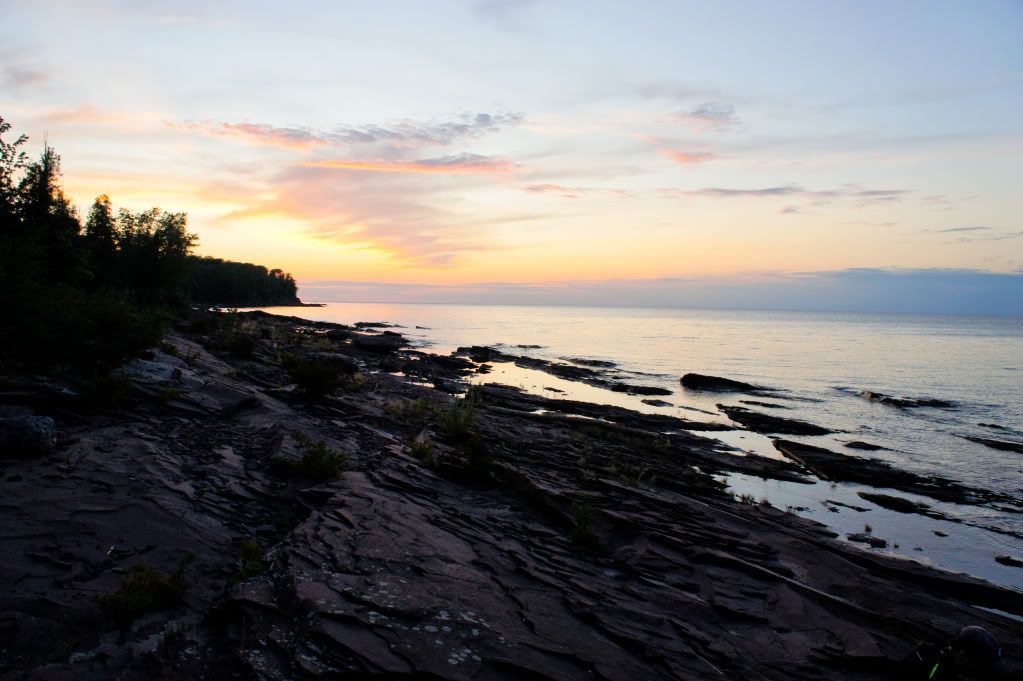 After the sunset, we sat and talked around a pic-nic table for a while, got asked to party with some guys (one of which was wearing a Viking helmet) and eventually went into the tent to sleep.
So far the trip was going great, and it had barely even begun.